Your First Visit to Our Concord Practice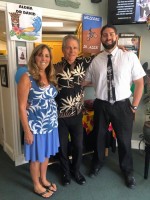 Our Concord office is very easy to find and we have plenty of convenient parking. New patients often remark how soothing and beautifully decorated our office is. We treat our patients like family in a "homey", comfortable setting, instead of a cold, clinical facility.
On your first visit to our office, you will be asked to spend approximately 1 1/2 to 2 hours. We're very thorough! If you haven't already completed your paperwork, you will be asked to fill out a complete health history and give specific details about your symptoms, both past and current. Then you will watch a short video to introduce you to Chiropractic care and to give you information which will help you to ask questions of the doctor.
Meeting the Doctor
When you meet the doctor, he will discuss all your health history and symptoms with you to clarify how he can help. He will perform static palpation which is simply the process of feeling (or palpating) your spine in a stationary (or static) position. He will feel for the presence of swelling, tenderness and any abnormal texture or tightness in the muscles and other tissues of your back. He will also perform motion palpation which involves feeling your spine while moving and bending. He can determine how easily or difficult each segment in your spine moves in different directions. He also is an expert in looking for subtle changes in your posture and movement which could indicate any problems. Lastly, he will use an instrument called a Nervoscope which detects any uneven heat along the spine that could indicate inflammation or nerve pressure. This instrument is guided down the length of your back and feels like two fingers gliding down each side of your spine.
Next he will take X-rays to visualize the entire structure of your spine. He will show them to you as he makes scientific measurements to find vertebral subluxations (misalignments causing nerve pressure), and to evaluate for any disease processes, fractures, posture and disc problems. (Dr. Morrow loves treating difficult and extreme cases, especially where patients have given up hope)
Finishing up the Appointment
Finally, after the thorough analysis of your spine using the above criteria, Dr. Morrow is ready to deliver the necessary spinal adjustments on this first visit. The Gonstead System is designed to be as specific, precise and accurate as possible, addressing only the problem areas. Great care is taken to ensure a mechanically correct position and precise thrust to provide the most accurate and painless adjustment possible.
You are given an appointment for your next appointment and are advised to call the office if you have any questions whatsoever about how you're feeling after the adjustment, or about your condition.
Take a look to see what to expect during your second visit.